On June 4, 2021, His Eminence Archbishop Hovnan Derderian, accompanied by former Diocesan Council Chair and former Supreme Spiritual Council member Dr. Varoujan Altebarmakian, Fresno State Coordinator of Armenian Studies Barlow Der Mugrdechian, Professor of Armenian Studies Dr. Sergio La Porta, the Pastor of St. Gregory the Illuminator Armenian Church of Fowler the Rev. Fr. Gomidas Zohrabian and the Pastor of St. Paul Armenian Church of Fresno the Rev. Fr. Yessai Bedros met with Saúl Jiménez-Sandoval, Ph.D, the newly appointed President of California State University at Fresno and his spouse Dr. Mariana Anagnostopoulos.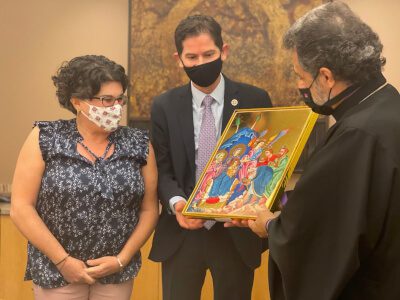 The cardinal meeting marked the beginning of a new chapter between the Western Diocese and the University. In his remarks to the University's President Dr. Jiménez-Sandoval, the Primate said «I congratulate you as the new president and immensely appreciate your respect for the Armenian culture and heritage. Your visit to Armenia has impressed us all and we look forward to further solidifying the relationship between our institution in the coming months and years.»
«As for your engagement with the Armenian Studies at the university, we all see your genuine support,» he added.
As a token of his gratitude, Archbishop Derderian presented Dr. Jiménez-Sandoval a painting depicting the Nativity of our Lord and Savior Jesus Christ.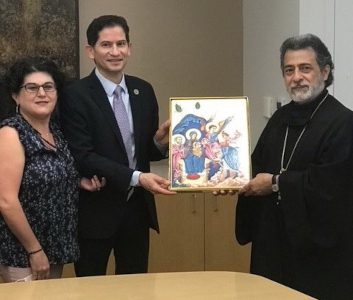 Shortly following his appointment, the Primate addressed a congratulatory letter to Dr. Jiménez-Sandoval, conveying his wholehearted wishes to the 9th President of Fresno State. «Dear Dr. Jiménez-Sandoval, your long-standing friendship and support of the Armenian Studies Program at Fresno State and your continued support is greatly appreciated. Your trip to Armenia and understanding of Armenian culture are indeed commendable,» wrote His Eminence in part.
READ THE PRIMATE'S CONGRATULATORY LETTER
In his moving reply letter, Dr. Jiménez-Sandoval expressed his sincere wishes to the Diocesan Primate, writing «I look forward to making this journey with our Armenian-American friends in the Central Valley with your assistance and blessing.» Referencing the significance of the Armenian Studies Program at Fresno State, Dr. Jiménez-Sandoval wrote «Fresno State's Armenian Studies Program is dedicated to educating students and the broader community about Armenian history, language, and culture, and we consider the program to be the jewel in the crown of our education.»