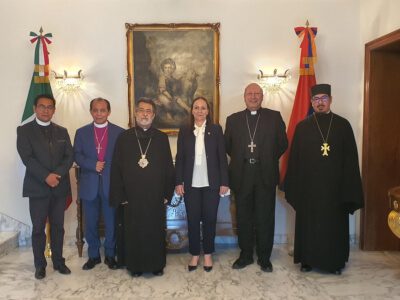 The Diocesan Primate paid a pastoral visit to the Armenian-Mexican community this week. This was Archbishop Derderian's first visit to Mexico since the pandemic and it coincided with the arrival of the new Ambassador of the Republic of Armenia to Mexico Her Excellency Armella Shakaryan. Archbishop Derderian has known the Ambassador for several years in her diplomatic mission in Los Angeles.
A reception has held under the auspices of the newly appointed Ambassador. Prominent guests attended the reception which has started with the welcoming words of the ambassador. Remarks were made by the Diocesan Primate and all ecumenical guests participated in the prayer dedicated to the Republic of Armenia.
In his remarks, Archbishop Derderian said "I pray God and thank the Almighty for gracing us all this historic day. The past year challenged us with the COVID-19 pandemic and the world has entered into a new phase. Humanity's life has changed in may ways. People around the world have witnessed the countless hurdles. Our nation has suffered the devastation of war in Artsakh and the loss of thousands of youth whose vision of freedom will never die in our spirituality."
Among the dignitaries in attendance were His Excellency Monsignor Franco Coppola, Nuncio Apostolico, His Grace Enrique Trevino Cruz of the Anglican Church and Reverend Efren Velasquez Gutierrez and Fr. Khristofor Nersisyan, Associated Pastor of the Russian Orthodox Church Vicariate of Mexico and member of the Holy Trinity Monastery in Mexico City.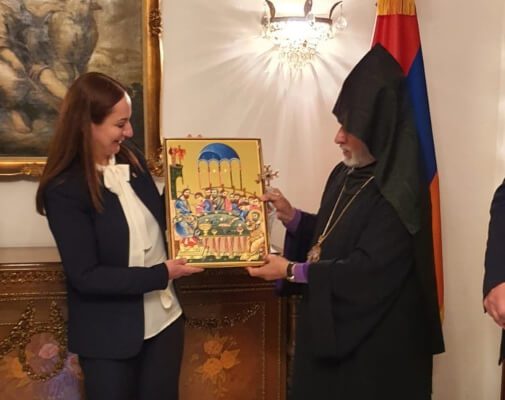 At the conclusion of the reception, Archbishop Derderian presented the ambassador with a gift. Gifts were also presented to all the attendees.
Archbishop Derderian's next visit will be scheduled in the next few weeks when he will be present for the celebration of the Eucharist and a special commemorative service for the fallen soldiers in the 44-day Artsakh War.