On Sunday, July 4, 2021, representatives of the administration staff of the Ramkavar Azatakan Party, led by the Deputy Chairman of the Central Board of the party Hakop Andreasyan visited the President of the Artsakh Republic Arayik Harutyunyan.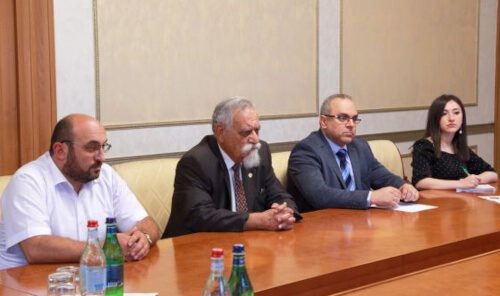 The delegation was accompanied by the adviser to the President of the Republic of Artsakh on agriculture, chairman of DLP in Artsakh, member of the DLP Central Board, Bardough (Saribek) Galstyan.
Issues on domestic and foreign policy, as well as on overcoming the challenges of the post-war period were discussed during the meeting.
Welcoming the DLP delegation's visit to Artsakh, President Harutyunyan stressed that the only way to keep Artsakh Armenian is through the unity as well as the unification of the efforts of all the Armenians.
In this context, he also emphasized the need to facilitate the implementation of various investment programs in Artsakh, directing the main potential and resources to housing and creating opportunities for Artsakh people to be able to live and create in their native land.
Referring to the war taken place in the fall of 2020, the President noted that it was too much to bear for all the Armenians, but it is time to set new national goals and work in the direction of achieving new successes and victories.
Arayik Harutyunyan highlighted that the recognition of the independence of Artsakh and the restoration of its territorial integrity remain one of the priority tasks that our state faces.
Hakob Andreasyan thanked the President for the warm welcome and noted that the Ramkavar Azatakan Party is always on Artsakh's side.
He stressed that, as in the past, today also the DLP should continue to work in the direction of the development and strengthening of the Motherland.
The sides exchanged views on the directions of the cooperation between Artsakh and DLP, as well as the members of the delegation introduced the future programs outlined by the party in Artsakh.