"By honoring Deacon Hrair," said Archbishop Hovnan Derderian, Primate, "We are honoring all the deacons and at the same time honoring their unique ministry within the Church." And so it was, as deacons from throughout the Diocese assembled at the St. Leon Ghevondyants Armenian Cathedral for a weekend of learning, fellowship and worship.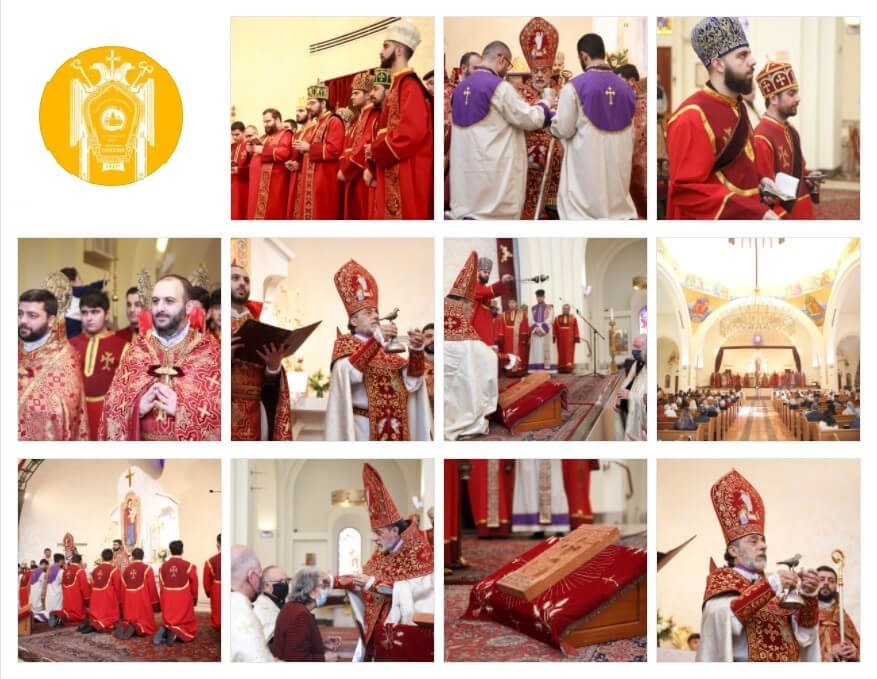 At the invitation of the His Eminence Abp. Hovnan and the Deacons Council of the Western Diocese, the two-day event was a first for a diocesan-wide gathering of deacons. Rev. Fr. Mardiros Chevian, Dean of the St. Nersess Armenian Seminary in New York, led a Deacons Workshop on Saturday, and Sunday morning, the Holy Divine Liturgy was celebrated in the Cathedral by the Primate, assisted by priests and most notably, deacons of the Western Diocese, donning priestly crowns throughout the service. In a lecture offered by Deacon Garen Hamamjian, the crown was introduced as a symbol as part of a three-fold understanding of the first deacon, St. Stephen, in the Armenian Church: Witness, martyr and champion of Christ.
During the Divine Liturgy, His Eminence called forward Anoush Dekmejian, who, escorted by Rev. Fr. Kevork Archpriest Arakelian and Fr. Vazken Movsesian came before the altar to witness the consecration of a Khatchkar dedicated and in honor of Deacon Hrair Dekmejian. With the Holy Miuron, His Eminence blessed and sanctified this cross-stone as a permanent marker of the dedication with which Dn. Hrair has served his Holy Church. In his remarks, Archbishop emphasized the unique character of humility of Dn. Hrair in his service to the Armenian Church. He wished health and strength to Dn. Hrair who was as unable to attend due to health reasons.
The Feast of St. Stephen is celebrated in the Armenian Church in the month of December. According to the Book of Acts, chapter 6, St. Stephen is the first deacon and martyr of the Christian Church. At the Cathedral, on this occasion, His Eminence Archbishop Hovnan Derderian, bestowed minor orders on two young men and the right to bear the stole (stole-bearer) to 11 young men.
With the ordination of the young men and the celebration of the life-time service of Dn. Hrair, Archbishop Hovnan pointed to both ends of the spectrum and tied the young with the old. "In Deacon Hrair Dekmejian we witness commitment and compassion," said the Primate, as a direction to the newly ordained and to us all.