Dear Friends and Neighbors,
I was honored to have represented the State Senate in Washington this week at the White House to celebrate the passage of the Bipartisan Safer Communities Act gun reform bill. President Biden and Vice President Harris joined survivors, families of lost loved ones, and activists from around the country to mark the Act's passage. The event was poignant, enlightening, and exciting.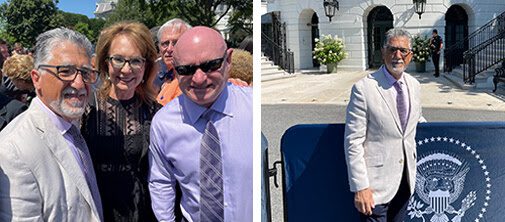 In particular, it was important to hear President Biden call for federal action consistent with SB 172, the California safe gun storage legislation which I authored and passed in 2019. This year, both houses of the Legislature have passed my SB 906, a bill that mandates school districts to educate families on the importance, significance, and responsibilities of the original safe gun storage bill. It also requires school districts to investigate credible violent threats on campuses. We recently witnessed a situation in Michigan where a district failed to address a warning when it was received. The inaction led to a violent and deadly occurrence on that campus.
Although we have far more to do on the state and national level, it was important to support the passage of the Safer Communities Act. California will continue to lead the nation in sensible gun reforms and rest assured, I will continue to be part of the conversation and solution.
Senator Hertzberg and I are awaiting the Governor's action on SB 1327, which was modeled on the Texas horrendous anti-abortion action to create a private right of action. We took the same model and applied it to the sale and manufacture of guns. I am also working with Attorney General Bonta and Governor Newsom on SB 918, California's response to the recent Supreme Court ruling on conceal-carry weapons permits. I plan to have SB 918 on the Governor's desk in early August.
Respectfully,
Senator Anthony J. Portantino